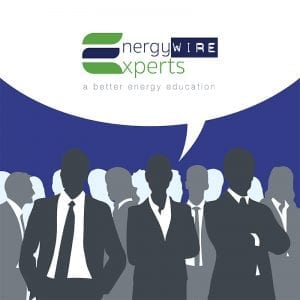 After 40 successful years in the Oil and Gas business, Mike Nemer needed a challenge. When he saw the glacial-like speed at getting deals done in the burgeoning renewable energy sector, Mike not only saw a challenge – he saw a business issue and knew he had the technology and expertise to address it.
Thus, in late 2019, he started eRENEWABLE, a renewable energy tech company that modernizes and expedites the way renewable power deals got done.
At eRENEWABLE, Mike Nemer and his team are using industry-leading auction technology to help facilitate PPAs (Power Purchase Agreements) and VPPAs (Virtual Power Purchase Agreements) for buyers and sellers of wholesale renewable electricity projects. With eRENEWABLE, Mike and his team bring real-time market pricing to the table and provide both buyers and sellers actionable data that would otherwise take months to compile. In addition to saving time, the eRENEWABLE auction tech and process brings transparency and additionality to the renewable power marketplace that's been non-existent in years past.
Mike's Team has conducted several auctions to date and is also utilizing their auction technology for battery storage auctions as well – believed to be the first of its kind in the market.
Due to Covid, overall transactions were few and far between for the entire industry, so Mike and his team expanded eRENEWABLE's suite of services. Those included renewable marketing, Unbundled RECs (renewable energy credits), Microgrids and HVAC & LED lighting as well. In order to serve their client-base with these services, Mike reached out to his former colleague Jake Jacques, who is now the Owner and CEO of energyware™, a leader in LED, HVAC, Solar and other renewable energy applications and services.
Mike also entered eRENEWABLE into a strategic partnership in April of this year with energy software innovator Intelometry, Inc. It was the first partnership of its kind for both companies.
As 2021 continues to pick up steam for eRENEWABLE, you can hear Mike every week on The Green Insider, the podcast he co-hosts with Fred Davis that has become one of the fastest-growing podcasts in the renewable space. Each week, Mike and Fred talk to industry leaders, innovators and disruptors to educate and highlight what's happening in this green energy renaissance that we're in.

Whether it's new technology, new marketing strategies or the tried-and-true methods of strategic partnerships, Mike Nemer and his team are dedicated and committed to revolutionizing the way renewable deals get done – or to borrow their catch phrase – They Make Going Green Easier.
Learn more about eRENEWABLE at erenew.net or follow them here on LinkedIn.
You can find their podcast, The Green Insider, On Apple Podcasts, Spotify, Google Play or erenew.net.